TO RECIEVE EARLY REGISTRATION INFORMATION FOR SUMMER 2022 CLICK HERE
Registrations for summer 2022 will OPEN FOR ALL RETURNING AND NEW CAMPERS – OCTOBER 15th – Talk to your friends and Start planning NOW!!!
See below for NEW Rate Structure!
Check out our Interactive Dates & Rates tool! This amazing tool provides real time information 24/7 while Registration is open so you have the most accurate information at your fingertips!
How does it work? Simply enter your camper's age, grade and gender for general availability and then click the links to load each session for specific information. No need to pick specific date ranges – let Campminder do the work for you! If you have more than one camper, open multiple tabs of the same link, enter the same information for each camper and see what's available for all of them. If you find something that works – you may register directly from this tool!!
2022 Session Dates and Themes
Check-in is on Sunday at 3:00 pm and check-out is on Saturday at 8:30 am.
Session 1 – June 5 -11 – College Football  
Session 2 – June 12 – 18 – Super Hero Week
Session 3 – June 19 – 25 – Olympics
Session 4 – June 26 – July 2nd – Video Games Come Alive
Session 5 – July 3 – 9 – Stars and Stripes
Session 6 – July 10 – 16 – Battle of the Bands
Session 7 – July 17 – 23 – Color Wars
Session 8 – July 24 – 30 – Holiday Hoopla
Want to know more? Click each link below:
Summer Camp Rates!
New this summer! Get the best deal to save and register EARLY to reserve your bunk!!!
Enroll anytime from October 15th 2021 to December 15th 2021 – Regular Camp – $896 (Specialty Camp add on $160)
Enroll anytime from December 16th 2021 to March 15th 2022 – Regular Camp – $926
(Specialty Camp add on $160)
Enroll anytime from March 16th 2022 to July 15th 2022 – Regular Camp – $956
(Specialty Camp add on $160)
Maintain the Magic Fee
3 DAY BUCKAROO CAMP – $
Rising 1st and 2nd Grade (AGES 6 TO 7)
Buckaroo is for rising 1st and 2nd grade and is available at the beginning of each regular session. Buckaroos check-in on Sunday at 3:00 pm and check-out on Wednesday at 1:00 pm. Once at Camp, Buckaroos have the option to extend and stay the whole week for an additional $375. Parents will be contacted on Tuesday afternoon to notify them of their Buckaroo's desire to stay or check-out on Wednesday. Buckaroos that stay the whole week will check out on Saturday at 8:30 am. Learn more about Buckaroo Camp here.
Regular Camp – $ See above for Rates
Rising 2nd – 10th Grade (AGES 7 TO 15)*
Regular Camp is for rising 2nd* to 10th-grade campers and they stay for a full week of camp. This is Camp Cosby's traditional camp experience in which campers enjoy many different activities, connect with their counselors and make deep, meaningful friendships. Camp tuition includes air-conditioned cabins, three meals and two snacks each day, caring, well-trained counselors, access to all age appropriate activities, camp t-shirt, cabin photo and store souvenirs. Learn more about Regular Camp here.
*NOTE: Mature Rising 1st graders are eligible for Regular Camp too! Call us for more information – 256-268-2007 today.
SPECIALTY CAMPS Rates!
SPECIALTY CAMP SPACE IS LIMITED. Plan ahead and Register early!
Rising 4th – 10th Grade (AGES 9 to 15)
Rising 4th to 10th-grade campers who meet the physical requirements can enhance their stay by registering for a Specialty Camp. For an additional fee, this is a great way to focus on skill development in some of Cosby's favorite programs. Specialty Camps include Mini Bikes, Wakeboard/WakeSurf/Waterski, and Wrangler. Specialty Camp campers bunk with campers their age and participate in all regular camp activities with a special emphasis on their chosen specialty. Half of their activity periods for the session will be reserved for their chosen Specialty Camp.
Mini Bike Specialty Camp – Regular Camp Rate plus $160 add on
Includes all the fun of regular camp and reserves half of the daily activity periods for Mini Bike lessons, rides and practice.
Wakeboard/WakeSurf/Waterski Specialty – Regular Camp Rate plus $160 add on
Includes all the fun of regular camp and reserves half of the daily activity periods for Wakeboard, WakeSurf and Waterski lessons, rides and practice. Learn More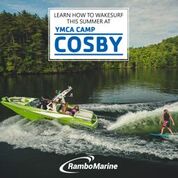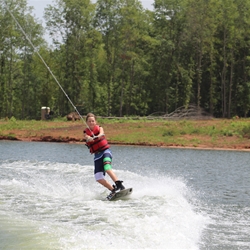 We are excited to continue our partnership with Rambo Marine who will be supplying Camp Cosby with 2 NEW Axis T22 ski boats. In addition to learning how to wakeboard and waterski this summer in style, campers who are registered for Wakeboard/Waterski Specialty Camp will have a chance to learn the hottest new skill on the water, WAKE SURFING! We are so excited to be able to partner with Rambo Marine to help make this Season better than ever! ALSO – Rambo Marine will be selling these boats at the end of the summer. Contact them directly if you are interested in purchasing! Just another great reason to be a part of the Camp Cosby family!!
Wrangler Specialty Camp- Regular Camp Rate plus $160 add on
Includes all the fun of regular camp and reserves half of the daily activity periods for horseback riding and horse care lessons, rides and practice. Learn More
LEADER IN TRAINING (LIT) $1410
Rising 10th Graders (AGE 15 by May 20th)
2 Week Program:
LIT Group A (Sessions 1 – 2) June 5 – June 18
LIT Group B (Sessions 5 – 6) July 3 – July 16
Group A and B are identical programs offered on different dates. Families can pick their preferred date. This is a leadership development program for returning and new campers. Campers will learn life skills, grow in leadership, gain independence and make great memories.
Want to know more? Visit LIT PROGRAM today!
COUNSELOR IN TRAINING (CIT) $1210
Rising 11TH Graders (AGE 16 by May 20th)
2 Week Program :
CIT Group A (Sessions 3 – 4) June 19 – July 2
CIT Group B (Sessions 7 – 8) July 17 – 30
Group A and B are identical programs offered on different dates. Families can pick their preferred date. The Advanced Leadership development program is focused on life skills, professional development and caring for others. CITs will get to experience leading others, professional evaluations, and guest speakers.
Want to know more? Visit CIT PROGRAM today!
THEME information

Campers can enjoy their sessions even more by participating in the themes! Our daily camp activities remain the same each session, but meals, campfire skits, and some evening programs will focus around the theme and we invite all to join in on the fun. Items to bring can include costumes, coloring books, trinkets, stuffed animals, and props. Please do not send any items of value. The items sent will be used and potentially get messy. Bringing theme items is not mandatory. Our counselors also help create this fun environment with crafts, projects and face paint!
COSBY ADD – ONS
Weekend Stayover – $140 
Enjoy the weekend with us in smaller groups, doing activities only available during this time and re-energize for the next session. Stayover weekend is only for campers staying from one session to the next and is not offered as a stand-alone program. IMPORTANT: If your camper will not check out between sessions, Weekend Stayover purchase is required. Please choose the correct Weekend Stayover session during the Registration process or add it prior to check in. IMPORTANT: Weekend Stayover is not a stand alone camp session. Please only register for this if your camper will not check out between sessions. NOTE: PLEASE PACK ENOUGH CLOTHES FOR TWO WEEKS IF PARTICIPATING IN A STAYOVER SESSION!
CampStamps Photo/E-Mail Service – $10
Once your camper has checked in for their session, CampStamps may be purchased through your CampInTouch account. View photos that are uploaded each day and send one way e-mails* to your Cosby Campers while they are at camp as a way of faster communication. *Campers will not have access to computers to reply to these emails. For young campers it is important to understand that emails received will be printed on paper and not viewed electronically.
Birthday Party – $60
Celebrate your camper's birthday "Cosby Style"! If your camper will celebrate their birthday during their camp stay, consider purchasing a Cosby Birthday Party package! Your camper will celebrate with their entire cabin during lunch or dinner on their birthday! Package includes party hats, special table decorations, favors and a beautiful personalized birthday cake along with a special song sung by our Cosby staff to honor their special day!
Cosby Gift Backpack – $50
The Cosby Gift Backpack contains Cosby themed nylon backpack, stainless steel water bottle, Cosby sunglasses, 2 small stuffed animals, playing cards, friendship bracelets and two snacks. A great gift for any camper – especially first time campers! Campers will be very excited to know someone special is thinking about them. Backpacks are delivered on Tuesdays during their camp session.
Cosby Pro Care Package – $65
The Cosby Pro Care Package is great for the returning or older camper! Package includes: Camp Cosby autograph pillowcase, Cosby Stickers, Cosby Lanyard to hold activity card, activity book, pens, snacks and a gift to share with their whole cabin. Cosby campers really enjoy the Cosby Pro Care Package! Cosby Pro Care Packages are delivered on Tuesdays during your camper's session.
Hydration Pack – $30
Our most popular store item is now available! Order at the time of registration to assure your Cosby Camper gets their own Hydration Pack. Hydration packs are portable, refillable and offer your camper a convenient way to stay hydrated as they travel around camp for activities. Limited Supply available. Your Cosby camper will receive their Hydration Pack on Monday morning of their session.
CAMP SCHOLARSHIPS
We believe every child should have the opportunity to attend sleepaway camp. Scholarships are available through YMCA Camp Cosby's Annual Campaign. It is our goal to make camp financially accessible for all families. Each year, through the commitment of our board members, volunteers, staff and families, funds are made available by generous donors to qualifying families. All applications are considered based on income, household need, and individual circumstances. Applications will be accepted beginning in January of each year. Interested in making a Tax Deductible donation toward our Scholarship Program? Click to Donate Today!! Thank you!!