G.R.A.C.E. CHAPEL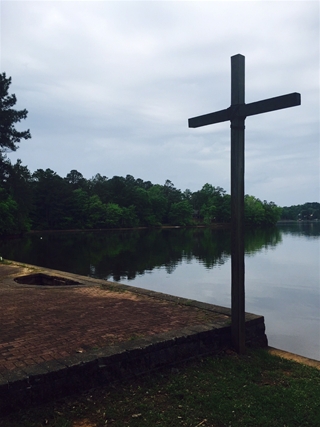 On June 26, 1995, at a railroad crossing near YMCA Camp Cosby in Alpine, Alabama, four beloved Camp Cosby summer camp counselors Ginger Griffies, Robin Vance, Amelia Elliott, and Chris Terry, tragically lost their lives in a car accident. This forever changed Camp Cosby and all that come through its gates.
To honor the legacy of these counselors a special chapel was built along the peaceful shores of Lake Logan Martin at YMCA Camp Cosby. This place is now forever known as G.R.A.C.E. Chapel:
G. (Ginger)
R. (Robin)
A. (Amelia)
C. (Chris)
E. (Eternity)
G.R.A.C.E. Chapel is a vital part of Camp Cosby, deep in tradition, and a very special place for all. During the summer, each weekly session is officially opened during Sunday evening's campfire at G.R.A.C.E. Chapel with staff, campers, and volunteers coming together for songs, skits, fun, and excitement. The history of G.R.A.C.E Chapel, the memory of these special counselors, and the love they had for Camp Cosby is shared with all who attend camp. At the end of each session everyone comes together once again for a closing ceremony in which campers and staff are honored and time is spent reflecting on relationships built, fun had, lessons learned, and memories that will last a lifetime.
Since 1995 we have acted and danced, laughed and cried, celebrated and reflected at G.R.A.C.E Chapel. Through these experiences we continue to honor the legacy of these counselors. To help impact future generations with this wonderful tradition, and to ensure that the spirit of camping lives on, you can contribute to the care, overall up-keep, and improvements of G.R.A.C.E Chapel by making a donation.
Click Here to Make a G.R.A.C.E. Donation
When asked "Do you want your donation to be affiliated with a specific Campaign?" Select "Camp Cosby – Special GRACE Chapel Memorial"